The majority of Singaporeans between the ages of 30 and 75 are concerned about ageing, according to a research study led by the Lien Foundation and NTUC Income.
The study "Supporting Singaporeans' Aspirations in Aged Care" had surveyed 998 respondents, and found that 82% of them were concerned about ageing in Singapore. All of the respondents held aspirations of having good health, being financially prepared and having a sense of purpose as they age.
One of the biggest concerns includes the inability to care for oneself or perform activities of daily living, which was most prevalent among seniors aged between 60 and 75 years old. These seniors were also most concerned about becoming "a burden" to their families.
Another major concern was financial preparedness coupled with a fear of "running out of savings" and the inability to afford healthcare and medical expenses, which was more widespread among younger respondents aged between 30 and 44 years old.
75% of respondents were also concerned about 'ageing in place', or the ability to live in one's own home and community safely, independently and comfortably, regardless of age, income or ability level. In this regard, the respondents aged below 60 years old were most concerned about this.
In line with the preference for ageing in place, 78% of those surveyed preferred to stay in their own home, independently or with their spouses, with 84% of seniors in favour of it. The preference was weaker among younger respondents at 73% of 30-44-year-olds, and 77% of the 45-59-year-olds.
Outside of the home, the 30 to 44-year-olds preferred alternative living arrangements like a retirement village or a senior's apartment, while seniors preferred a senior's apartment and a nursing home.
In a unique twist, 50% of respondents were willing to live in a nursing home, but less than a third of all respondents would send their family members to live in one.
Awareness about aged care services like elderly day care centres, nursing homes, home care and respite service was also high at 80%, despite only 20% of them having had a relative stay in an elderly day care centre or a nursing home. Those surveyed said that the lack of time, space at home, expertise and social support were the main reasons they would need aged care services.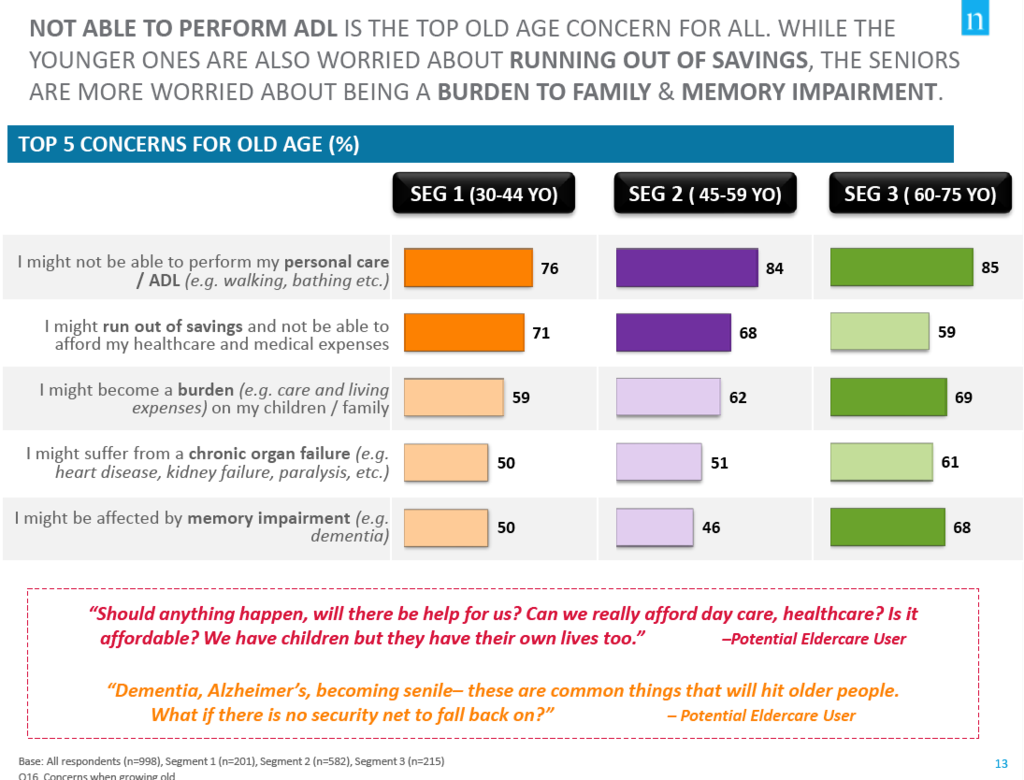 What were their expectations for such services?
For home care services, a number of respondents responded in focus group sessions that well-trained healthcare professionals were the most important criteria.
On the other hand, facilities at elderly day-care centres needed to be well maintained and clean, conveniently located, offer well-trained staff, and provide activities, therapy sessions, and healthy food.
Nursing homes expectations were similar to those of elderly day-care centres, but senior respondents also emphasized that adequate numbers of well-trained staff would be needed to offer personal attention to residents.
Nearly half of respondents were willing to stay in assisted-living facilities, a housing alternative for seniors who do not require intensive medical and nursing care seen in nursing homes.
Incidentally, privacy featured high in the expectations of Singaporeans, as close to half of the respondents indicated that it was unacceptable to stay in six to eight-bedded rooms for the rest of their lives. The younger group also indicated that privacy in nursing homes was their second most important consideration.
Instead of privacy, those aged 45-59 years old prioritized mentally engaging activities and counselling, while seniors wanted healthy food and therapy sessions most.
In terms of financing, two-thirds of respondents below 60 years of age were already actively saving for their retirement through savings and investments, while seniors were financing their retirement through savings, their salary and their children.
A majority of respondents were not aware of the cost of aged care and were not confident of their ability to afford it. In fact, nearly half of respondents below 60 preferred to be able to purchase long-term insurance that would finance their future aged care expenses, and sought to have a fixed monthly pay-out and coverage for chronic elderly conditions.
In the same press release, NTUC Income announced it has launched a new insurance plan, known as Silver Secure, that provides benefits pay-out upon diagnosis of senior diseases such as Parkinson's disease, dementia or Alzheimer's disease, blindness, major head trauma and paralysis, which would be available from Oct 28.
This article first appeared in The Edge Singapore Market Report.