As the world's largest company with a market capitalisation of over US$2 trillion dollars, Apple is no stranger to anyone. Like many, my iPhone is the first thing I see in the morning when turning off the alarm, and it's often also the last thing I see before heading to bed. Seeing how entrenched smartphones are in our lives and its rate of adoption, it is not surprising to see the iPhone contributing the majority (52.5%) of Apple's revenue in 2021.
However, despite the iPhone's popularity in the market, its CAGR over the last five years has been one of the lowest at 8.34% compared to Apple's other product segments.
This slower growth is attributed to the increase in average lifespan (replacement cycle length) of smartphones worldwide. This means lower demand to upgrade iPhones despite the introduction of new models. For an average user like myself, the cost of upgrading to a new phone far outweighs the small incremental benefits that make little difference (as long as the old phone still works fine). Just ask yourself, when was the last time you changed your phone? And how long did it take before making that change? For me, my previous iPhone lasted six long years before I upgraded.
That said, while slower growth rates are inevitable when a company reaches a certain scale, Apple has been working on other growth areas beyond the iPhone to expand revenues. Here are three growth drivers I've found when analysing the company.
1. Services
The App Store, iCloud, AppleCare+, Apple Pay, Apple Music, Apple TV+, etc. are certainly some services an Apple user would be familiar with.
Apple's second largest segment brought in US$68.4 billion in 2021, accounting for 18.7% of total revenue. Apple's services segment has grown the second fastest at a 20.27% CAGR (from 2017 to 2021) – a sign that the company has shifted its focus to subscriptions and services. This increasing focus on content has allowed Apple to diversify its reliance away from hardware (which comes with supply chain challenges and rising costs). Apple's success in this area was built over the years, with the constant introduction of new services that have undergone multiple updates.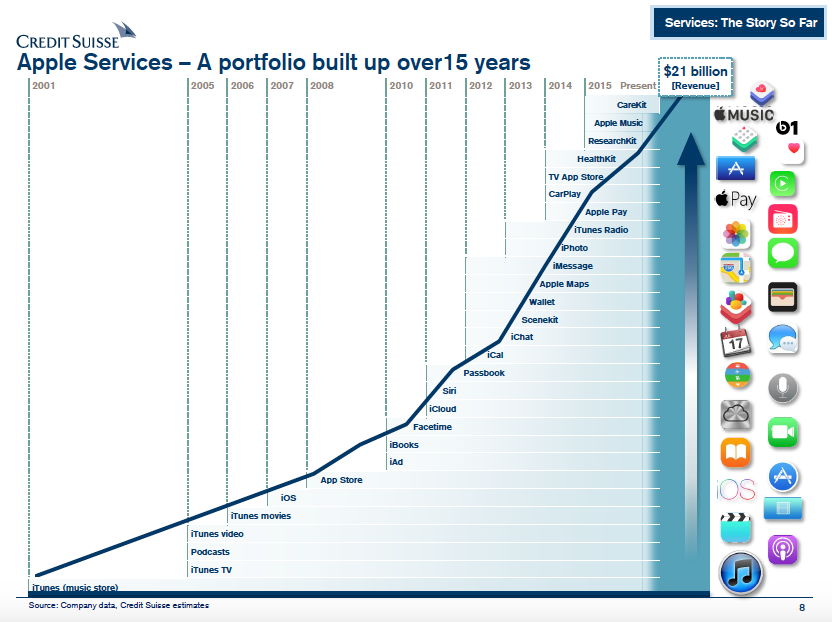 Furthermore, since its inception, Apple has been growing its user base for its product lines to an estimated 1.8 billion active devices worldwide as of 2022. As the Apple ecosystem grows with a rising number of apple users, it in turn increases the demand for its services – providing greater recurring revenue streams especially for subscription-based services like Apple Music, iCloud, etc.
Here are some interesting statistics:
Between 2017 to 2021, App Store revenue growth experienced a 120% growth, with users spending an estimated US$85.1 billion on in-app purchases, subscriptions, and premium apps in 2021
Apple services subscribers grew from 660 million in 2021 to 825 million in 2022, a 25% growth
From these, it's clear that the investments in services have definitely paid off for Apple, giving it a runway for further growth.
2. Wearables
Accounting for 10.5% of total revenue in 2021, 'Wearables, home and accessories' is another segment not to miss. From the period between 2017 to 2021, wearables have grown at a 31.51% CAGR, the fastest growing segment for Apple.
I still remember back when the AirPods first launched in 2016, many claimed that they were ugly and overpriced. Or as this article puts it: 'Wearing these will make you look like you have soggy cigarettes sticking out of your ear." Who could've imagined that this heavily criticised product would've transformed into a bestselling one today.
Just take a look at the market share. As of 2021, Apple commands a 34.4% market share in the U.S. headphone market. Along with Beats (15.3%), which was acquired in 2014, Apple holds a commanding 49.7% market share, versus prominent brands like Bose which only holds 12.5%.
To help you understand the scale of this, Apple sold 35 million pairs of AirPods in 2019 according to third-party estimates. On a revenue basis, this is a US$6 billion per year run rate that is growing year over year. According to a research by BlueWeave Consulting, the wireless headphone market which was worth US$18.3 million in 2021 is projected to hit US$69.9 million by 2028, growing at a CAGR of 21.5%.
Another famous wearable we see everywhere is the Apple Watch. Similar to the AirPods, Apple leads the pack in market share at 36%.
Due to the pandemic, the adoption of home-based exercise programmes rose. From January through November 2020, approximately 2.5 billion health and fitness apps were downloaded worldwide, representing a 47% jump from the year before.
To tie in with this trend, Apple released its own workout subscription service, Fitness+, which was built around the Apple Watch – allowing you to track your activity, heart rates, blood oxygen and much more. In America, smartwatches are catching up as fast as they did for smartphones back then. In 2021, an estimated 1 in 4 Americans own a smartwatch or fitness tracker.
Although we are arguably coming towards the end of the pandemic, the growth of smartwatches does not stop here. In fact, the smartwatch market is expected to grow to US$27.96 billion from 2020 to 2025, CAGR of 18.79%. As the market leader in wearables, Apple will greatly benefit from this trend.
3. New Products
Apple Car
Besides Apple's current product lines, we should also keep an eye on its ongoing projects that could accelerate future growth. The first that caught my attention would be Apple's own electric car which according to multiple reputable sources, could officially be announced in 2022 and launched by 2025.
This is a timely venture, given that the electric vehicle (EV) market is expected to grow at a CAGR of 21.7% from 2022 to 2030. This growing interest in the EV market is definitely prevalent not just in the U.S. but around the world.
In my home country of Singapore, I've noticed a slowly increasing number of EVs on the roads. Singapore's EV population more than doubled last year, growing from just 1,397 vehicles at end of 2020 to 3,713 vehicles at end of 2021? That's despite the high cost of owning cars in Singapore! With Apple's strong brand equity and ecosystem, I am sure that many would consider giving Apple a look when they launch their EVs.
VR/AR
Another potential new product I am excited about would be their virtual/augmented reality products. Based on Macrumours, Apple has been working on projects that include an VR headset to be released in 2023 followed by a sleeker AR version at a later date.
In terms of market potential, the global VR/AR market is expected to grow at a CAGR of 46% from 2020 to 2025. Although there are multiple big names in this field such as Microsoft and Meta, having a share of this market presents high growth revenue opportunities for Apple.
The fifth perspective
While the growth of iPhones has slowed down significantly as compared to its initial phase, Apple's effort in diversifying its product lines into wearables and its services segment will continue to spur growth. Beyond these, new projects like the aforementioned Apple car and VR/AR products are potential future growth drivers that may greatly reward investors further if everything goes according to plan.
As long as Apple continues to innovate based on market trends, expands its ecosystem, and thereby strengthens its moat, I am confident in the company's future growth prospects.
Looking for stocks that can 3X your investment? Discover how to identify high-quality, fast-growing stocks that are set to dominate their industry over the next decade with the Investment Quadrant. Enrollment closes on Sunday, 10 July 2022, at 11:59PM. Click here to unlock access.